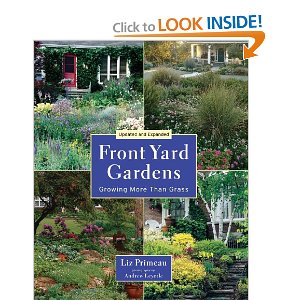 What's a gardener to do when the wind howls and the snow flies in January? Reading an inspirational gardening book is always a good idea. This post is a review of just such a book — Front Yard Gardens by Liz Primeau, a Canadian garden professional and writer. The book, published by Firefly Books Ltd. in 2003, includes hundreds of beautiful photographs, most by Andrew Leyerle.
An updated and expanded version of the book came out in 2010.
I came across this book a few years ago while perusing gardening books in a bookstore. I loved the cover, which depicted several beautiful front yard gardens. (I later learned that the top left photo is of the author's garden.) Those pictures inspired me to begin thinking about how to transform my front yard into something far more interesting than the small sward of grass it was at the time.